p.p.s. two years later in tucson, no garden, no campsite, expensive food & everything else, no money, no video, but making tiny tiny progress in a back alley of this backwards major city which totally pretends to solar power and sustainability...
if i'm careful, my old 10-speed human-powered bike does ok on these amazingly straight, level, and wide sun-sucking asphalt streets (a very large proportion of tucson's sprawling surface area), and metasofa.org is now hosting one community web service, along with this website and some others on our own "100% organic grassroots cloud" of community-owned free-linux webservers.
our server hardware is no big deal, each machine is about 10 years old, absolutely worthless as a personal computer, including some solar-powered laptops with broken screens, but they're fast enough for internet servers and debian linux is fantastically reliable! on the highly esoteric subject of "sustainable internet", i'm currently working out how to float our own dns servers in a cloud of dynamic ip's, what fun! your old wifi ipods will still work on our network when the grid is down :)
the one community web service is tucson's community timebank, up on the metasofa cloud since last summer 2012. this timebank is a member-based community directory for finding people, services offered and wanted, and other resources, anywhere on the internet (not just tucson).
in a timebank, everyone's hours are worth the same, which could be the basis of a simple global currency standard for truly "fair trade", whereby people from any/everywhere in the world can trade equal hour for equal hour with whomever they like. (we'll see how long it takes to catch on :)
meanwhile, check out comfy metasofa's listing in the timebank members directory...
About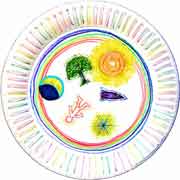 the comfy metasofa / metasofa artists community
email metasofa(at)mac.com
website
http://metasofa.org
We're forming an egalitarian intentional community and experiential educational environment in support of transcendent creativity.
Cultural diversity with spiritual consciousness is essential - welcoming each other with respect, kindness, learning and understanding. This also includes people of all ages and abilities, and of any economic status.
more at http://metasofa.org/community
Offered
Peer-Support Workshops - for working & aspiring artists in any media, who live and work in spiritual consciousness - http://metasofa.org/workshops
Healthy Food Workshops - to provide simple, true, and practical information and experience in this field - http://metasofa.org/workshops#food
Transcendent Movie Nights - free informal gatherings to share our favorite and "transcendent" movies - http://metasofa.org/workshops#movies
Time Banking - we're facilitating Tucson Time Traders and other timebanking groups by providing this website & software on our "organic grassroots cloud" of community-owned linux webservers - see http://timebank.metasofa.org:81 and http://tbkc.metasofa.org:81
Websites - we're also hosting free / donated websites for some transcendent artists & non-profit orgs - http://kcsilverworks.metasofa.org, http://inayati-tucson.metasofa.org, http://work.sustainabletucson.org, http://citydiet.org, http://felione.metasofa.org, http://randmav.metasofa.org, also see http://metasofa.org/vansprouts/media.html
Long-Range Projects (in development, see Wanted below) - Bike Hostels, Backyard Agriculture designs-prototypes, Solar Electric Bicycles design-repair co-op, Alternative Media Production & computer-electronics repair co-op
email - metasofa(at)mac.com
Wanted
Location(s), funding, and collaborators to help develop these long-range projects...
Intentional Community and Bike Hostels - we're in search of urban and rural locations in & around Tucson and northern New Mexico, along existing or potential long-distance bike routes, so we can provide basic accommodations for community members, guests, travelers - hostel beds, shower-bath-sauna, cheap & healthy dining, internet cafe, library, movie theatre, etc
Backyard Agriculture - prototype systems for small-scale organic gardens / composting / aquaponics / greenhouse domes / rainwater harvesting
Solar Electric Bicycles - solar / pedal electric bike / cart design & repair co-op (and other human-powered / lightweight vehicles)
Alternative Media Production - audio / video / web / media production, and computer / electronics repair co-op
also see www.ic.org/directory/metasofa-artists-community and http://metasofa.org/news
email - metasofa(at)mac.com
in case you didn't get the message - please help! the comfy metasofa needs your participation and support! this is good work to be doing in this world at this time, please contact me if you're interested. and join your local / global timebank, it's free and infinitely valuable - tb.metasofa.org
e-love, chris v