the comfy metasofa
"necessity is the father of invention. (sophia is the mother)" -cv
metasofa news blog, announcements, events
about the artists workshops, healthy food, transcendent movies
artists community - proposal for support of transcendent creativity
invitation to the comfy metasofa
also see
sun-moon-earth clock - mickey-mouse watch of the ancient astronauts
lunar calendar - a roman-to-lunar conversion calendar for everyday use

virtual refrig door - with some stuff we've created in the artists workshops
metagame artists wildlife refuge - posted!
meta metta - a prayer for the return of freedom & beauty in this world
some quotes about, well... didn't anybody tell you?
comfy metasofa in the metasofa timebank
about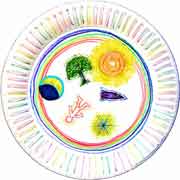 the comfy metasofa / metasofa artists community
email
metasofa(at)mac.com
website
http://metasofa.org
We're forming an egalitarian intentional community and experiential educational environment in support of transcendent creativity.
Cultural diversity with spiritual consciousness is essential - welcoming each other with respect, kindness, learning and understanding. This also includes people of all ages and abilities, and of any economic status.
more at http://metasofa.org/community
Peer-Support Workshops
- for working & aspiring artists in any media, who live and work in spiritual consciousness -
metasofa.org/workshops
Healthy Food Workshops - to provide simple, true, and practical information and experience in this field - metasofa.org/workshops#food
Transcendent Movie Nights - free informal gatherings to share our favorite and "transcendent" movies - metasofa.org/workshops#movies
Time Banking - we're facilitating Tucson Time Traders and other timebanking groups by providing this website & software on our "organic grassroots cloud" of community-owned linux webservers - see metasofa.org/timebank and metasofa.org/tb-kc
Websites - we're also providing free webspace & tech help for transcendent artists & non-profit orgs, see metasofa.org/kc-silverworks, metasofa.org/inayati-tucson, metasofa.org/rwtradingpost, work.sustainabletucson.org, metasofa.org/citydiet, felione.metasofa.org, metasofa.org/vansprouts/media
Long-Range Projects in development (see wanted below) - Bike Hostels, Backyard Agriculture designs-prototypes, Solar Electric Bicycles design-repair co-op, Alternative Media Production & computer-electronics repair co-op
email - metasofa(at)mac.com
Locations, funding, and collaborators to help develop these long-range projects...
Intentional Community and Bike Hostels - we're in search of urban and rural locations in & around Tucson and northern New Mexico, along existing or potential long-distance bike routes, so we can provide basic accommodations for community members, guests, travelers - hostel beds, shower-bath-sauna, cheap & healthy dining, internet cafe, library, movie theatre, etc
Backyard Agriculture - prototype systems for organic gardens / composting / greenhouse domes / rainwater harvesting
Solar Electric Bicycles - solar / pedal electric bike / cart design & repair co-op (and other human-powered / lightweight vehicles)
Alternative Media Production - audio / video / web / media production, and computer / electronics repair co-op
also see www.ic.org/directory/metasofa-artists-community and metasofa.org/news
email - metasofa(at)mac.com